---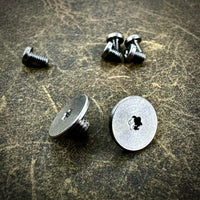 Set Includes:

4 Backspacer Screws (size: 2-56 x .125) 
1 Clip Screw (size: 2-56 x .165)
2 Low-Profile Pivot Screws (size: 6-40 x .180)
These screws are completely made in house on our Swiss lathe. Every screw is T8 with a chamfer on the torx to keep them looking fresh after many takedowns. Material is 6AL4V Titanium. Stonewashed finish. 

Please Note: These low-profile pivot screws will NOT work on older Roosevelts with the spanner style pivots or the square shoulder pivots. They will only work with Roosevelts that originally had dome or low-profile pivot screws (roughly Roosevelt #262 and higher).